Professional training
This course is intended for companies and institutions that wish to train their personnel in French. A needs analysis precedes a training plan adapted to the objectives established with you. Several options are available.

Our objectives: To become your French language training partner, to develop the oral and written skills of your employees, to improve and facilitate their integration in the professional environment.

In order to respond positively to the particular needs of certain individuals or groups, we offer adapted course formats. Contact us so that we can establish a training plan adapted to your needs. We will then propose a customized course, possibly with additional workshops or cultural activities. Courses can take place at the Alliance Française Strasbourg Europe or at your company's premises.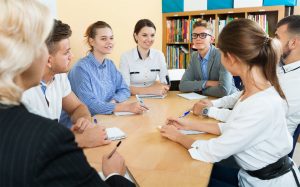 Do you have a group of learners already formed who wish to participate in a French as a foreign language (FLE) course? We offer:
General French courses at 120€/hour
French for Specific Purposes (FOS) courses at 140€/hour
Specialized French and professional French courses: 150€/hour
Several options are available:
Your students join our general courses or participate in our summer language stays, and integrate our classes (in super intensive, intensive, semi intensive or extensive courses) to work on general FLE.
We set up training with specific courses that offer content adapted to a particular field (Specialty French) or to a particular situation (French for Specific Purposes).
The program is based on the modalities of our à la carte courses: one-on-one, in mini-groups or in groups already formed, in our premises or on site.
Are you based abroad? Do you want to organize a language stay for your students? We can offer you a tailor-made training program with general French courses, an adapted cultural program including visits (European institutions, city center, etc.), meetings/conferences and complementary workshops, without forgetting our associated services for a successful stay (accommodation, catering and transportation).